---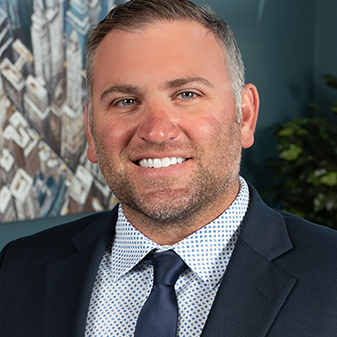 Ryan Heyer, PE
Principal | Senior Structural Engineer
ryan@heyer-eng.com | 701-280-0949
Professional Engineer: North Dakota, South Dakota, Minnesota, Kansas, Michigan, Texas, Oklahoma
Having been in the industry since 2005, Ryan has extensive design-build and construction site experience and specializes in the structural design of steel and concrete buildings.
Ryan earned his Bachelor of Science degree in Civil Engineering from North Dakota State University in 2005 and upon joining Heyer engineering after graduation, immediately was intrigued by the industrial side of structural engineering.
While providing consulting services for several years, he decided to direct his career to industrial structural engineering. This allows Ryan to pursue the engineering sector he enjoys while become extremely proficient in designing all types of structures to support numerous loading criteria both small and extremely large or tall.
Combining his passion with quality-focused structural engineering experience has led him to be an accomplished senior engineer ensuring the firm continues to deliver premier industrial facilities.
Specializing at developing practical structural solutions to challenging building types, he understands the importance of well-crafted, clear structural documentation. These qualities have led him to be an expert at developing efficient and effective structural systems, which allowed him to play a key role in several innovative projects including large and complex government builds and substantial public works facilities.
An expert in structural steel, concrete, and masonry, Ryan can design and analyze just about anything. He has earned respect within the industrial realm and the trust of all his clients.
He is a member of the American Institute of Steel Construction (AISC), American Concrete Institute (ACI), and National Council of Structural Engineers Associations (NCSEA).
Ryan represents Heyer in the industrial sector of structural engineering. He is exceptionally suited to interpret and understand his client's needs to ensure projects are completed on time and within budget constraints.
HOW DO I SEE MY ROLE/RESPONSIBILITY AS A LEADER?
"As a principal and manager, I work to ensure my team of engineers and drafting staff are sufficiently given resources to efficiently and accurately design structures and components for all different styles of projects. The various teams and team members make Heyer what it is. A company of creativity, integrity, mutual understanding, and great dedication to our projects, each other, and those we work with and serve."
NOTABLE PROJECTS
Tuffy's Milling Plant
Cityscapes Plaza
Alumni Center – University of North Dakota
Watertown Water Treatment Plant
Tharaldson Ethanol Plant
Upper Maple River Dam